Consolidated Electronic Wire & Cable is your complete source for standard and custom wire, cable, cordset and interconnection products.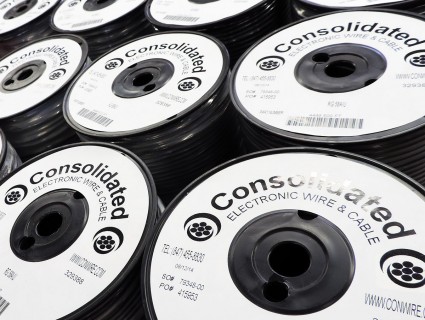 Through more than 100 years of experience, we have served nearly every market and industry by successfully delivering cable and wire solutions with the ability to meet unique application requirements and the most stringent industry standards.
Our focus on manufacturing top-quality wire and cable solutions has allowed us to establish ourselves as an industry leader. That's why we work hard to maintain our ISO 9001:2015 certification, so our customers can rest assured that we are committed to providing them with the very best products and services. Our strict quality assurance processes (in-process inspections, application testing, product specification verification and more) further ensure our products will successfully meet our customers' needs.
To learn about the history of Consolidated, please visit our history page.
The Consolidated Advantage
Consolidated Electronic Wire & Cable is a customer-driven, employee-owned (ESOP) company. This means our employees are fully dedicated to our customers and continuously strive to improve our manufacturing processes, customer services and product offerings in order to ensure complete satisfaction. Unlike large corporations, our smaller size means we can provide our customers with highly responsive, reliable and personal, one-on-one service.
Choosing Consolidated Electronic Wire & Cable for all your electronic wire and cable needs means:
Reduced Total Cost of Procurement

Relying on Consolidated for all your cable needs will save you time, as well as increase efficiencies by utilizing our Just-In-Time (JIT) stock program with fast turnaround.

One-Stop Shopping Experience

We offer a wide range of products including electronic wire and cable, power cords and retractile cords, molded cable assemblies, cable and wiring harnesses and much more. Consolidated can supply all of your electronic needs from bulk wire and cable, to molded cable assemblies, wire harnesses and finished "box build" units.

Convenient Corporate Distribution Center

Modern expansive distribution center located minutes from Chicago's O'Hare International Airport and major terminals.

Unrivaled Quality

Our Total Quality Management (TQM) system is utilized throughout the manufacturing process to ensure finished products meet our customers' unique specifications and all applicable agency approval requirements.

Superior Custom Services

Through more than 100 years of business, we have served virtually every market and industry throughout the world. No manufacturer is more capable of fulfilling your unique cable requirement. Whether your order is 5,000 feet or 1,000 pieces, we can design and manufacture a custom product to meet your exact needs.
View our best products: Multi Conductor Wire | Wire Cable | Power Cords | RG Cable | Custom Cable | 16 AWG | UL Style Cable | Cable Coaxial |  SJTW Wire | Wire Color Code Charts | Custom Power Cables | Flexible Cable | Tinned Copper Wire | VW-1 Cable
Some of our best blog posts: American Wire Gauge Diameter | Molded Cable Assemblies | Rohs Cable | NEMA Standards | Best Power Cord