As a Made for iDevice (MFi) Manufacturing Licensee, our company has been approved by Apple, Inc. to manufacture Made for iDevice accessories as finished goods. Licensed MFi products meet all of the standards for performance and safety that Apple exemplifies.
The cables manufactured by Consolidated are of the highest quality and guaranteed to properly work with all Apple iDevices, including iPads, iPhones and iPods.
Few manufacturers are chosen to create Apple-approved accessories, and those that are can guarantee you the high-quality products that your customers demand.
Why You Need MFi-Approved Cables
Apple's MFi Manufacturing License is used to certify accessories as safe to charge and sync with Apple iDevices. MFi-approved products have special controller/driver chips that authenticate the cable and identify the type of iOS device to which you are connecting.
To properly market and sell Apple accessories, OEMs must use all MFi-approved parts and components. Manufacturers using unlicensed parts risk distribution problems and consumers may experience disruptions in service. Using cables that are not MFi-approved may also damage your customers' devices, as non-licensed parts are often constructed poorly and do not carry the guarantees of safety and performance like MFi-approved products.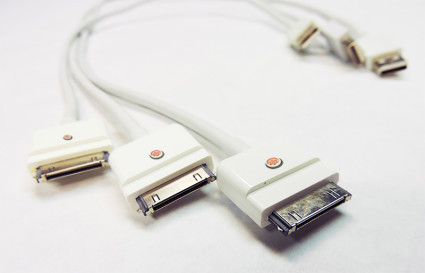 Unlicensed third-party cables carry a lot of potential risks:
Low-quality materials can cause products to crack, break or harm users
Cable failures may harm the device itself to the point where it refuses to charge
iOS devices may refuse to sync or transfer data, displaying the message: "This accessory is not supported by this device."
Overheating of the iOS device that can potentially harm batteries or fry the U2 C1 battery recharging chip.
Why Choose Consolidated Electronic Wire & Cable
Consolidated Electronic Wire & Cable is an MFi-licensed manufacturer of cables for many of Apple's most popular devices—and our breadth of capabilities allows us to develop a custom product that seamlessly integrates with your brand. If you are looking for an MFi-certified cable that matches your company's color, or with your logo on the connector, look no further than Consolidated. Countless OEMs choose our company because of our ability to provide high quality, custom MFi-licensed cables at competitive prices.
Consolidated is here to provide you with the best-in-class cabling and device connections so you can thrive. Contact us today to see what our company can do for you.