In 1994, Compaq, DEC, IBM, Intel, Microsoft, NEC, and Nortel collaborated to develop the Universal Serial Bus (USB), a cable designed to standardize the connection between computers and peripheral devices such as keyboards, printers, network adapters, cameras, and storage equipment. USB was created to address usability issues [1], simplify software configurations, and permit greater data rates for external devices.
Shortly thereafter, in 1995, these same companies formed the USB Implementers Forum, Inc. (USB-IF) [2], a nonprofit organization created to support and facilitate the continuous advancement and adoption of USB technology and high-quality compatible USB devices.
In this post, we'll be outlining the various advancements in USB technology over the years while exploring their impact on manufacturers and consumers alike.
Featured Products: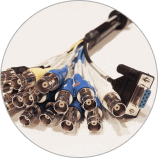 Cable Assemblies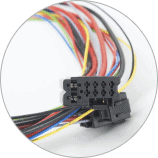 Wire Harnesses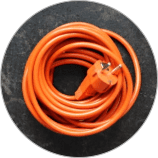 Power Cords
USB Types
The original USB specification, introduced in the '90s, defined connectors with data transfer rates of 1.5 megabits per second (Mbps) as low speed, while connectors with transfer rates of 12 Mbps were classified as full speed. Today there are three major types of USB connectors — USB Type A, USB Type B, and USB Type C, each which offer their own revisions and specifications depending on bandwidth needs.
Let's first take a look at the different types of connectors available today.

USB A-Type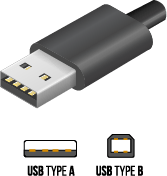 Considered the standard and most common type of connector, A-style connectors are found on the PC or charger side of most cables. This flat, rectangular interface joins directly to host devices and is held in place through friction. Durable enough for continuous connection but easy enough for users to connect and disconnect, this connector type is also available in micro variations.

USB B-Type
Type-B USBs were traditionally used with printer cables but, with the advent of wireless printing, they're now more often used in cell phones as Micro-USB B adapters; they're also used in various peripheral devices [3] such as mobile printers and external hard drives. These USBs feature a square interface and are available as a Micro-USB B, USB Mini-b (5-pin), and USB Mini-b (4-pin).

USB C-Type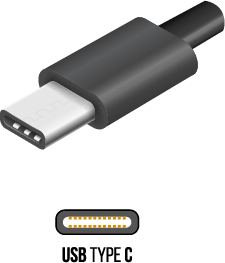 The newest type of connector on the market, Type-C is a one-size-fits-all solution. Featuring a reversible, symmetrical interface, this thinner, sleeker design is intended to replace older, larger USBs, though it can be adapted to support legacy connectors as well. Its small size allows all devices to easily adopt the single USB connector shape, eliminating the need for various types of cables.
USB Revisions and Specifications
USBs are further classified by their power specifications. Each version now features increased bandwidth, allowing for compatibility with a broader range of devices and applications.
USB 1.1
Though now obsolete, USB 1.1 or Full-Bandwidth USB was the first widely used consumer USB, allowing a maximum bandwidth of 12 Mbps for basic devices such as computer mice and keyboards.
USB 2.0
Also called the High-Speed USB, version 2.0's main improvement was the upgrade to a bandwidth of 480 Mbps [4]; this allows for use in higher-bandwidth devices such as adapters, transfer cables, and mass storage equipment. USB 2.0 also offers backward compatibility to support USB 1.1 devices.
USB 3.0 aka USB 3.1 Gen 1
Dubbed the SuperSpeed USB, 3.0 further improves upon the 2.0's bandwidth, jumping to a maximum of 4.8 Gbps with backward compatibility for legacy devices.
USB 3.1 aka USB 3.1 Gen 2
A key identifier of the latest USB 3.1 is the switch to blue connectors. Quickly gaining adoption in new products like the Apple MacBook, USB 3.1 Gen 2 is capable of transfer speeds up to 5 Gbps.
USB Power Delivery Standards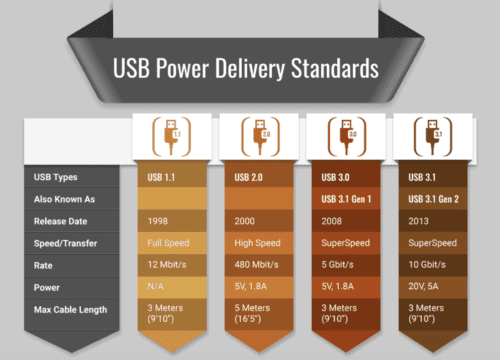 Every USB advancement has offered enhanced power delivery standards and improved communication capabilities among devices.
USB 1.1
USB 2.0
USB 3.0
USB 3.1
Also Known As
USB 3.1 Gen 1
USB 3.1 Gen 2
Release Date
1998
2000
2008
2013
Speed/Transfer Rate
Full Speed

12 Mbit/s

High Speed

480 Mbit/s

SuperSpeed

5 Gbit/s

SuperSpeed

10 Gbit/s

Power
N/A
5V, 1.8A
5V, 1.8A
20V, 5A
Max Cable Length
3 Meters (9'10")
5 Meters (16'5")
3 Meters (9'10")
3 Meters (9'10")
USB Type-C
As touched upon earlier, the most recent development in USBs, USB Type-C, is designed as a one-size-fits-all solution for data transfer and power supply on any device. Featuring a smaller connector, Type-C fits into one multi-use port to simultaneously charge devices and transfer data and also offers backward compatibility to support previous USB standards (2.0, 3.0, and 3.1).
USB Type-C 3.1's reversible cable enables two-way power and data transfer, with 10 Gbit/s of bandwidth and power up to 20V at 5 Amps [6], or a total of 100 W — enough power to charge a laptop or provide 4K monitor resolution with one slim, streamlined cable.
A universal and nonproprietary technology, Type-C is quickly becoming the new standard for operating systems and hardware providers; Intel's Thunderbolt recently switched to USB Type-C ports while enabling cross compatibility with USB 3.1, and Apple has announced that new MacBooks will feature a Type-C port [5]. In fact, USB-IF predicts that by 2019, all laptops, tablets, mobile phones, and other consumer electronics will be equipped with USB Type-C.
USB Cables From Consolidated Wire
For more than 100 years, Consolidated Electronic Wire & Cable has been delivering high-quality wire and cable solutions to countless markets and industries — at affordable prices. In addition to offering standard and custom products, our team can also create USB-C cables for all your charging and data transfer needs.
Watch the video!
For more information about our Type-C manufacturing capabilities or our full standard and custom molded cable selection, contact us today.
References
[1] http://www.eetimes.com/author.asp?section_id=14&doc_id=1285237
[2] http://www.usb.org/about
[3] http://www.webopedia.com/TERM/P/peripheral_device.html
[4] http://www.attinternetservice.com/resources/mbps-vs-mbps/
[5] https://www.macrumors.com/roundup/usb-c/
[6] http://science.howstuffworks.com/environmental/energy/question501.htm