Leave a Comment
With so many different types of cables on the market, it can be a challenge to find the perfect cable for your application.  With some knowledge of your application's demands, however, you can quickly narrow down your options and find the ideal solution for you company. To simplify your search, we've covered some of the key aspects to consider before investing in a cable.
Cable Use
How you plan to use your cable will determine how many

conductors

you'll need within it. Depending on their use, cables can contain as few as one conductor to as many as 100. These conductors are available in a variety of combinations, gauges, and building materials, all of which are better suited to certain applications. Tinned cooper wire, for example, is an excellent choice for cables located outside because of its high resistance to oxidation. Similarly, silver plated copper wire works well in particularly hot climates because of its corrosion resistance.
Weather
All cables require proper insulation against typical atmospheric conditions, including temperature, moisture, and air pressure. A qualified manufacturer like Consolidated Wire can provide you with an appropriate material for your application. Some of our most popular and versatile materials include:
Polyvinyl chloride (PVC), an inexpensive and easy-to-use insulator that resists flames, abrasion, moisture, gasoline, acids, solvents, and ozone
Semi-rigid PVC, a strong insulator against acid, water, heat, and alkalis
Polyethylene, an inexpensive plastic known for its strong electric qualities and resistance to soldering, solvents, cutting, and cracking
Flexibility
A cable can be more or less flexible depending on its typical movements over the course of the day. Most wires are available in normal, flexible, or robotic-flexible versions. The type of jacketing chosen for your cables can also have an effect on their flexibility. Polyurethane jacketing, for example, provides a much higher level of strength and flexibility than other materials.
Indoor/Outdoor Use
Outdoor cables generally require greater protection from the elements than their indoor counterparts. A number of jacketing materials can afford the necessary level of protection. Consolidated Wire's PVC, Semi-Rigid PVC, and PE jacketing, for example, all provide excellent weather resistance when complemented with Carbon Blank. Our polypropylene, polyurethane, polytetrafluoroethylene jacketing offer excellent resistance to foul or extreme weather, as well.
If you have any additional questions about cables, the experts at Consolidated Wire are here to help. With more than a century of experience in developing customized wire and cable solutions, we have the expertise needed to determine which materials and components will best fit your application. Download our "Creating a Custom Cable" eBook today for a more detailed overview of cable customization.
Leave a Comment
In our digital age, nearly every device needs to be powered with some type of cable or wire. With such a diverse set of gadgets, appliances, and tools at our fingertips, however, it's hardly surprising that there isn't a single cord or cable for all of our electronic devices.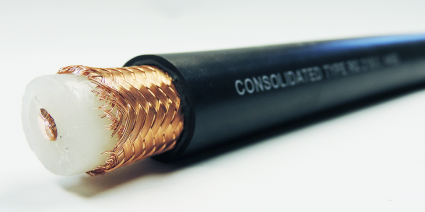 That's where custom cables can make all the difference.
Whether it's medical equipment, a computer, an automation system, or a car, most personal and professional applications need a cable of a particular length or size that can perform at a certain level and withstand unique environmental conditions.
In cases where a standard cable just won't cut it, customized cables can provide the unique fit and functionality for your specific application.
Finding the Perfect Cable
It can be a challenge to find the right components for a customized cable. Prospective customers need to take an array of factors into consideration, including the desired cable dimensions, the expected environmental conditions, level of flexibility required, temperatures it needs to withstand, and whether it will be used outside or inside.
If you're armed with answers to these questions, however, a trusted cable and wiring company like Consolidated Wire can determine the kind of materials needed to build the ideal cable for your company. At every stage of the process, a talented team of designers and engineers can work closely with you to identify the best materials for your cable and develop a design that's suited to your typical applications. As soon as you've settled on a design, you can expect to receive your order in three to ten weeks.
Working with Consolidated Wire
Since 1919, Consolidated Wire has specialized in creating customized wiring and cabling solutions for customers in a broad range of industries. Widely respected for our versatility and deep commitment to customer service, we design and manufacture products for nearly any application.
Our website features an easy-to-use form that allows customers to enter the information we need to build the perfect cable for you. With a wide array of materials at hand, we can adjust the strength and flexibility of your cables as needed. We also offer various conductors, jacket components, materials, insulating compounds, and fillers to help you ensure that your cable meets your exact specifications.
To learn even more about how to create your own custom cable, download our guide, Creating a Custom Cable today. If you'd like to explore working with Consolidated Wire, contact us today.